It's that time of year! Whether you have a guitar player on your gift list or you're making a wish list of your own, you might want to check out some of my ideas and recommendations. I'm all for simple and inexpensive, so nothing on this list tops $25.00.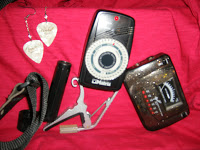 Tuner
– Your guitar player will certainly want a reliable tuner. There are plenty of good ones on the market, but my under $25 choices are the
Fender Sparkle Tone
($19.99) and the
Korg clip-on tuner
($24.99). If you can spend a few more dollars, you might want to check out some of the other clip-on tuners available.
Music Stand
– As important as it is to use a music stand when playing, a lot of people try to get by without one, due to the price of a quality stand. We now have some options for reasonably priced stands that are also strong and stable. Check out
this sturdy stand
that sells for $24.99.
Metronome – Everybody who plays a guitar needs a metronome, but unfortunately, many guitar players don't own one. We can change that!
Metronomes drive a lot of people crazy and one of the reasons is the sound itself. If I had to play with one that produced a tone (beep), I would never turn it on! Buy a metronome with a click or wood block sound rather than a tone and everyone (teacher included) will be much happier. My current favorite is the
Matrix mr500
– it has a good sound, an easy to use dial and an earphone option, all for $24.99.
Guitar straps
are fun to give, because there are so many cool ones to choose from and they can be personalized. Remember, though, that using a strap can create tension and pain for many players, so unless your recipient is a performing musician who stands when playing onstage, consider a safer gift.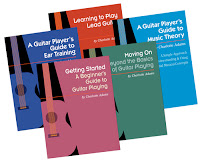 Instruction books and videos
– something for every level, starting at $15.00. Also, consider a
gift certificate for a lesson
– any length lesson is available, so you can choose one to suit your budget.
For good stocking stuffers, think about guitar themed magnets, calendars, mugs, caps, key chains, earrings, necklaces, mousepads and more. Other good stocking stuffers are strings, cords and picks, but before you buy these gifts be sure you know the personal preference of your recipient. You can find plenty of sites that sell guitar accessories online – and don't forget to look at some of the wonderful hand-made items on Etsy. Happy shopping!