Wanna have some fun? It's guaranteed when you pick up a ukulele!
If you've dreamed of playing guitar, but hesitated due to the financial and time commitment required, consider the ukulele as an easy and inexpensive introduction or alternative to guitar. If, however, you already play guitar and are thinking of adding another instrument, you will probably fall for the ukulele the minute you pick it up and discover how playful and playable it is!
Most of us think of Hawaiian music when we think of the ukulele, but it's a great instrument for any kind of music – pop, folk, rock, even jazz. Not only that, but it's super-portable:  toss it in your backpack when you go camping or stash it in the overhead bin when you fly. The ukulele is truly a "go with" instrument!
The list of musicians who have used the ukulele in performances and recordings is long and includes such greats as Israel Kamakawwiwo'ole (commonly know as "Iz"), Bruce Springsteen,  Eddie Veder and of course, George Harrison, who was a huge fan of the ukulele! In this priceless note he tells us why: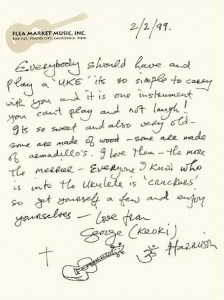 The more the merrier! Yes! (As an animal lover and fan of the armadillo,  however, I hate to think of using such an innocent creature for an instrument!)
What if you don't sing? You don't have to in order to enjoy the ukulele! For inspiration (and fun!), check out virtuoso ukulele player Jake Shimabukuro and while you're cruising youtube, don't forget to enjoy the diverse and creative ukulele work of James Hill.
Ready to try it? Come to a ukulele workshop! Check the calendar page to find one that works for you. Of course, I can help you in private lessons, as well, so feel free to contact me!
To inquire about lessons or workshops with Charlotte,  
contact us.