A guilt-free, super-charged and affordable way to learn guitar
Whether you are currently taking guitar lessons or have taken them in the past, you are probably familiar with the biggest problem people encounter when learning guitar: sufficient practice.
It's not easy to begin and maintain a satisfying practice routine. You might go periods without any practice and when you do get around to it, you may feel that your accomplishments don't add up to much. To make matters worse, you probably don't even know if you are practicing correctly or efficiently.
Most students spend more time and energy mired in frustration and guilt about not practicing than they do practicing! Unfortunately, your teacher (if you have one) only sees you once a week, and so can't help you through your practice time, other than giving you some tips or a suggested routine. It still comes down to your making it happen.
After watching countless people beat themselves up over these roadblocks, I've come up with a solution. Just Show Up! ™ is a new series of classes that I created to relieve your frustrations and help you to learn fast!  Instead of the usual one lesson a week, you will get three lessons and because you will be a part of a small class, you will spend a fraction of the money that you would for private lessons. I will personally guide and instruct you in each lesson and you will experience maximum learning for minimum time and money – and NO guilt! You don't even have to practice in between our meetings to make huge progress – all you have to do is show up!
How Does It Work?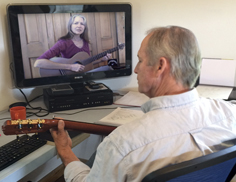 Using your phone, tablet or computer, you will take three lessons each week for 5 weeks in a small group web conference. Each week will consist of:
Lesson 1 – A 45-minute session with your guitar and any music you are working on.
Lessons 2 & 3 – 30-minute sessions which are scheduled during the middle of a weekday (lunch break!) and don't even require a guitar (although you may use one if you wish). In addition to reviewing what you learned in the previous Lesson 1 class, you will practice ear training, improve your knowledge of the fretboard and increase your music literacy.
A typical schedule for your classes would be Saturday afternoon at 2:00 pm CST and Tuesday/Thursday at noon. The sessions will even be recorded so that you can access any classes you have to miss!
Cost/Options

$145 (15 classes) If you are just getting started on guitar, you won't find a better way. If you are an experienced player who wants to learn more about a particular area of guitar playing, you will also want to go with this plan. Choose your area of focus and then check the calendar below to find the dates  for the series that interests you.
$90 – (10 "lunch classes" only) This is a good option if you are an experienced player who missed out on ear training, fretboard knowledge or theory or if you just want to brush up on those skills. If you would like to go this route and are unsure of the best class series for your level, email me and I will help you choose.
If you prefer to Just Show Up for three 30-minute private lessons weekly, the cost is $90/week. Email me to schedule your lessons.
Choose Your Area of Focus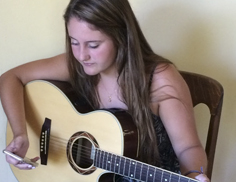 Getting Started – Start playing songs right away! Learn first position chords, strumming patterns and proper technique. Also, begin learning the fretboard, developing your ear and learning the musical language.
Fingerstyle Guitar – Learn a variety of fingerpicking patterns and the basics of playing chord melodies.
Chord Melody – Learn and use 3-string chords as well as extended chords to play full arrangements. Knowledge of fingerstyle basics is required.
Introduction to Jazz Guitar – Acquire a working vocabulary of jazz chords, play common chord progressions and gain the understanding of tonal centers necessary for soloing. You must be comfortable with playing songs and be able to easily find and play barre chords to benefit from this class.
*Every series includes relevant ear training, fretboard fluency and music literacy.
Preparing for your classes
In order to participate in the classes, you will need a good internet connection and a webcam. I will send instructions for participating in the the web conference in advance of the first class. I will also send files of the materials you will use and ask you to print them and bring to your classes. (You will need hard copy of these files, as you will be writing on them. Bring a pencil!) No other materials are required, but if you choose to take Getting Started, the book and CD for are strongly recommended.
The only other thing you  have to do is Just Show Up!
New to web conferencing? It's easy using Google Hangouts! Check out these instructions of how to join the class.