Guitar Instruction Books, Videos, Practice Aids and More
for Every Level Guitar Player

Comprehensive
Guitar Instruction
by Charlotte Adams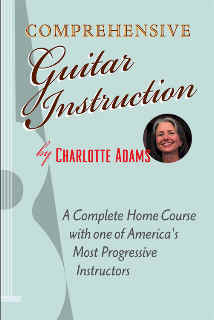 Basic chords, learning the fretboard; accompaniment and rhythm playing; single notes, scales & melodies; ear training; note reading, memorization and learning tactics; theory and practice of lead playing. DVD /Includes 2 enclosures


$19.95 for more info
Getting Started
A Beginner's Guide to Guitar Playing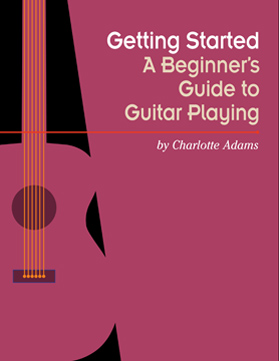 For the complete beginner: chords, accompaniment techniques and essential information about the musical language and the instrument, including parts of the guitar, how to tune, how to change strings, proper technique, notes on the fretboard and staff, chord progressions, strumming and fingerpicking patterns, songs to sing and play, and more. 41 pages, cd, dvd



$14.95 for more
click here to look inside the book
Moving On
Beyond the Basics of Guitar Playing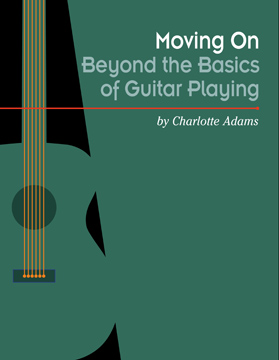 For the guitarist who has experience playing in the first position and is ready to begin using the entire fretboard to play chords, scales and melodies. Topics covered include: rhythm, barre chords and moveable chords, right-hand accompaniment patterns, bass lines and fills, scales and note reading 64-page book, cd



$17.95 for more info
click here to look inside the book
A Guitar Player's Guide to
Music Theory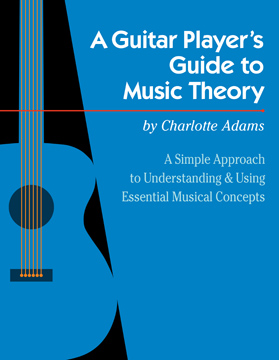 For the beginning guitarist and the seasoned player alike. Topics covered include: the staff, time signatures, key signatures, scales, chord construction, the circle of fifths, transposing and more. Worksheets and answer sheets provided.
88 pages spiral bound



$17.95 for more info
click here to look inside the book
A Guitar Player's Guide to
Ear Training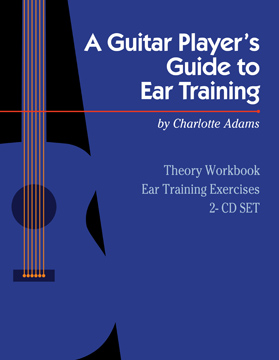 For beginning and intermediate guitarists. Topics include: recognizing and writing intervals, chord qualities and melodies; sight-singing and guitar-specific tips. 42 page workbook/manual and 2 cd set (135 min.)



$16.95 for more info
click here to look inside the book
Learning to Play
Lead Guitar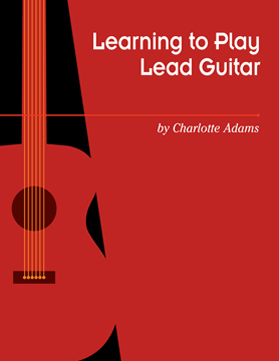 For the guitarist who is in command of the basics and is ready to expand into playing leads. Topics covered include: methods for efficient learning, aural comprehension, scales, arpeggios, transcription and analysis, technique and style, cultivating creativity, balanced performance and more!



$17.95 for more info
click here to look inside the book
LESSONS by WEBCAM
30-Minute Lesson
$35.00



_____________________
45-Minute Lesson
$45.00


______________________
One-Hour Lesson
$60.00



______________________
Package of (4)
One-Hour Lessons
$220.00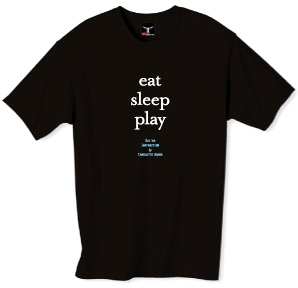 100% Cotton, Beefy-T:
eat sleep play
Guitar Instruction
by Charlotte Adams
$15.00
Sizes


Downloadable Videos
$7.95
Metronome Use
Fretboard Familiarity
Pain-Free Guitar Playing
Video Name


Also available on DVD – $9.95
Click here for options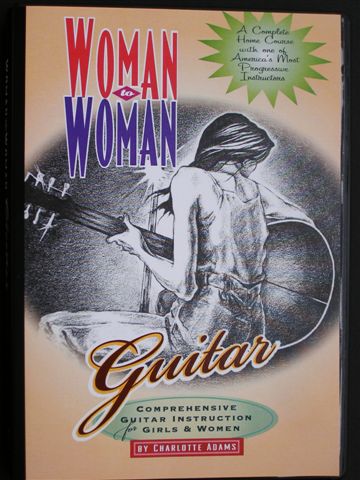 Woman to Woman Guitar
A Complete
Guitar Instruction Course
by Charlotte Adams
Accompaniment and Rhythm Playing, Lead Playing, Learning Tactics, Ear Training and more.
DVD $29.95
Includes two enclosures / 85 minutes



for more info
The original video – This is the same content as Comprehensive Guitar,
but with a focus on women.
PRACTICE CARDS
for
GUITAR PLAYERS
Motivation, Inspiration, Organization, Memorization
|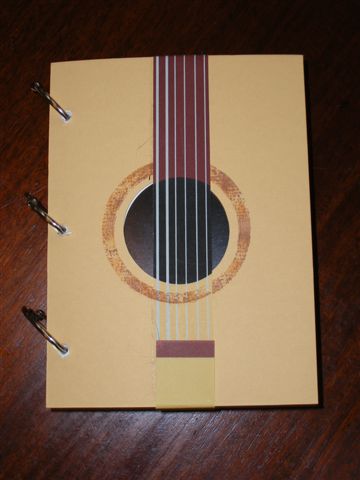 Handmade album includes 10 unique decks of cards for study.$39.95
PRACTICE CARDS
for GUITAR PLAYERS
Now Available: Buy the five most popular decks in a royal blue velveteen pouch:
Notes on the Fretboard/Notes on the Staff, Chord Qualities; Scales and Modes, Chord Tones, Intervals
$18.95



*Full album out of stock. 5-deck set currently available.
Gift Certificates
Know someone who would like to get started, unstuck or inspired on guitar? Gift certificates are a great way to give someone one or a series of lessons by webcam or in person! They may also be used to purchase anything on the site and they are available in any denomination.
You don't need a button to purchase one – simply log in to PayPal and, using the "send money" tab, enter the amount you want to give. Use the following address for payment: info@guitar-instruction-video.com . Of course, you are welcome to pay by check or money order or to contact me to work out the details.
Be sure to enter the name of the recipient, as well as your own (or the name of the person giving the gift). Your certificate will be created and emailed to you within hours!
Combine and Save!
Package #1 – Starter
Getting Started plus one 45-minute private lesson by Skype – $47.95 (save $12.00)


Package #2 – One of Each
Getting Started, Moving On, A Guitar Player's Guide to Music Theory, A Guitar Player's Guide to Ear Training, Learning to Play Lead Guitar and Comprehensive Guitar Instruction (DVD) – $95.70 (save $20.00)


We accept PayPal and major credit cards. If you prefer to purchase the products by check or money order, please use the following mailing address:
Guitar Instruction
P.O. Box 604
Wimberley, TX 78676
Make check payable to: Charlotte Adams
(If you are paying by check or money order, you can use the shopping cart to calculate shipping and handling.)