Many people who have heard Charlotte play describe her as a jazz guitarist. Others consider her a vocalist as well. If she played at a wedding which you attended, you might think her musical focus is classical guitar. But if you ask Charlotte, she will probably simply say "I play guitar". Hooked on Chet Atkins' guitar style as a teen, her playing still reflects the influence, as she always seems to come back to fingerstyle chord melodies and can't seem to resist that alternating and moving bassline.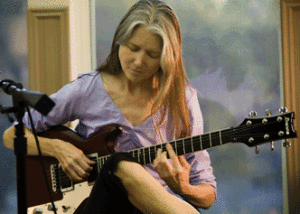 Her personal history created the thrust behind this website and, more specifically, behind Woman to Woman Guitar. Charlotte experienced many difficulties as a female guitarist in the seventies, including problems in her hands and arms which seemed to mark an end to her career. It was clear to her almost immediately that the physical, psychological and emotional aspects of the pain were inseparable. Fortunately, she had already embarked on a study of natural health and healing, as well as a mental/spiritual discipline. But there was no shortcut and no roadmap.
At the time Charlotte lost her ability to play, she was teaching 35 private lessons a week, practicing 5 hours a day, and playing regular gigs at night. It was a difficult period for her, as her whole life was about playing music and now that life was threatened. She made the decision to stay quiet about it, not telling her students. "I didn't want to scare people and I was afraid everyone around me would think the same thing was going to happen to them, possibly even creating the problem through their anxiety. Also, I kept thinking I would wake up one day and be okay, and it would be a moot point." She decided to continue teaching, minimizing the amount of actual playing she did in a lesson and further developing her verbal and intuitive skills. These are the very skills which currently allow her to teach students over a long distance telephone line or via a website!
To what does Charlotte attribute the debilitating condition she suffered and the gradual, long-term healing? "I felt a great deal of pressure as a guitarist in those days. The fact is, a guy carrying a guitar could walk into a room full of guitar players and the general feeling was 'hey, man, let's jam'. But a woman in the same situation felt something more like 'prove it'. I couldn't handle that. A performer feels vulnerable enough in a non-hostile environment. I don't mean to imply that there was intentional hostility, but there was a definite level of discomfort, probably not unlike that felt by some of the first women to enter the male-dominated world of politics. If you've ever been in a situation like that, you know exactly what I'm talking about. It is not conducive to growth and creativity, unless (and this is a guess) you find competition to be a motivator. I wouldn't know about that, personally."
     "There was this incredible tension in my body when I played. There was drive, drive, drive in my practicing. I didn't know anything about proper body use while playing and there was no information on the subject available at that time. I didn't consider the wisdom of choosing a guitar to fit my body. I looked for sound, which is important, but obviously is of no use if you can't play! I tuned my body out more and more until it would no longer allow me to do so. "
     "The commitment to love and to balance in my teaching, in my playing and toward all of life has brought answers and solutions. Now that I have some of those, I have something to offer from my experience. I want to help other guitar players in any way that I can. And I want to empower women who might have a hard time finding the support, encouragement, and good, solid facts that they need to express themselves musically."
So, what does she do now? Well, she plays guitar, but she no longer "drive, drive, drives". She works with her horses and enjoys time in nature every day. She writes, arranges and creates soundtracks. And she teaches. She packs in so much, you would swear she had to drive to do it. But she says it all just flows. And if you're around her, you will feel it.
___________________________________________________________________________
______________________________________________________________________________
To inquire about private lessons or workshops with Charlotte, contact us.
For dates of upcoming workshops, retreats, and performances, click here.
Please check out my blog for more thoughts on learning and performing guitar…and follow me on Twitter!