To learn, read. To know, write. To master, teach. ~ Hindu proverb
Do you teach guitar or are you in the process of launching a teaching career? If so, you are probably aware of the many rewards of the trade. Sometimes, though, after a long day of helping others, we could use a little support and assistance ourselves! It is my intention to provide some of that support with the ideas and information on this page. Please feel free to email me with your own ideas, suggestions or additions!
When Students Don't Practice
As a teacher, you are undoubtedly the happiest in your work when your students progress quickly and consistently. In order to ensure this kind of progress, you probably have some sort of plan in mind for each student. No matter how perfect your plan is, though, the success of it will rely on the quality and quantity of time that the student invests in preparing for each lesson. A student who arrives at a lesson unprepared (and particularly if it becomes a habit!) is perhaps the most common and constant source of frustration for any music teacher.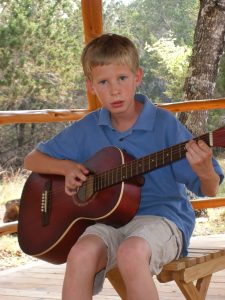 Regardless of how much you love teaching, dealing with students whose practice habits don't meet your standards can trigger negative attitudes toward those students and the entire experience can be so miserable that it may even make you rethink your decision to teach. What's worse, the unprepared student will usually carry a burden of guilt that makes him or her feel just as miserable as you do. For that student, the initial excitement around learning guitar often spirals downward into a dread of attending lessons. In addition, the cost of the lessons will go from feeling like a valuable investment to a troubling waste of money. It's only a matter of time before either or both of you throw in the towel – and neither of you will be happy!
Does it feel like you've tried everything to change this experience? Encouraging students to suggest favorite songs to learn, scheduling performances, organizing group classes or even requiring students to fill in practice logs in an attempt to heighten engagement – any of these attempts may produce some results, but those results are often minimal or short-lived. Sometimes it seems that no amount of support or cheer leading will jump start a non-practicing student, and you are left with the same unanswered question: what can you do to help this student learn?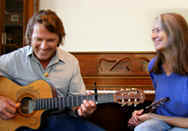 I've discovered that the question can actually be answered quite simply and with remarkable results: "Teach them!" The musical realm is so vast, there is always more to learn and teach – and it can always be fun! When students continue to learn new things in spite of their lagging practice habits, they enjoy their lessons and maintain a commitment to them. And with the inspiration they receive at each lesson, it is only a matter of time until their practice habits improve and everybody wins!
I have actually come to really enjoy lessons with students who have not practiced, as it presents a creative opportunity in my teaching – and I love seeing how much lighter students appear when they are relieved of their guilt and in possession of a new tool for their musical toolbox!
When you first begin this approach, it may seem challenging to come up with just the right solution on the spot, but you don't have to create every lesson plan on your own. This book can help you regain forward motion with an unprepared or uninspired student – and with 52 Lessons, you have help every week of the year! Just choose a topic from the index that you feel would benefit, excite or inspire your student. Be sure to introduce each lesson with an explanation of the relevance to their long-term goals or short-term enjoyment. You may want to mix up topics or, if you have been heavily focusing on one aspect of playing, such as technique, you might see an opportunity to introduce a fresh topic, such as analyzing rhythms or melodies or hearing chord progressions. Some of the lessons are theory oriented, some provide instruction regarding common chord progressions or right hand techniques and others, such as working with the metronome, playing melodies or developing pitch sense, present foundation skills that can and should be taught repeatedly over a period of time – but they all present essential skills for guitar players!
_________________________________________________________________________________________
Volume Discounts for Teachers
If you are interested in using any of my books in your teaching and would like to inquire about volume discounts, please contact me.
Mentorship Program
If you are serious about being an exceptional guitar instructor and a life-long learner, you may want to consider studying with me in a mentorship program. My program is structured to provide a limited number of people with the opportunity to improve their teaching skills and build a solid business while super-charging their own musical growth. If you are accepted into the program, I will personally instruct and assist you in all aspects of teaching both private and group lessons, including: effectively organizing and presenting concepts and skills, determining and meeting the individual needs of each student, inspiring and motivating students toward their goals and mastering business-related tasks such as building a solid student base, creating a website, setting policies and collecting fees.
If you are not yet familiar with my work, please take a tour of both the site and the blog to get an idea of my teaching style and philosophy. You can also read reviews of my instructional materials both here and on Amazon.
If you are interested in finding out more about this opportunity or would like to submit an application, please contact me. I look forward to hearing from you!
Workshop/Retreat for Teachers
Workshops are so much fun and so productive – and when teachers get together and share ideas, great things always happen! If you are interested in participating in a weekend workshop/retreat for teachers, send me an email. (Check out this page for a description of workshops and retreats.)
Short-Term Help
Do you ever need immediate help when a student requests to learn a song that has you stumped or you when you come up short on a theory question? Do you suspect that blind spots in your own playing or your approach to teaching hold you back or keep you from getting more students or holding on to the ones you have? I can help! I'm happy to work with you by email, telephone or Skype, either on an ongoing or one-time basis. Email me to make a request or discuss the options.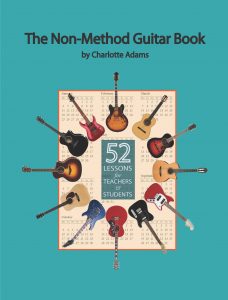 For details or purchase, click here
___________________________________________________________________________
_______________________________________________________________________________
To inquire about private lessons or workshops with Charlotte, contact us.
For dates of upcoming workshops, retreats, and performances, click here.
Please check out my blog for more thoughts on learning and performing guitar…and follow me on Twitter!